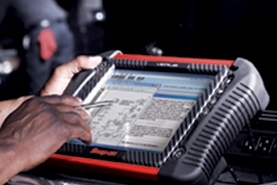 Did you know that most cars today have between five and fifteen different computers networked throughout the vehicle? Today's auto repair shop must be able to access and interpret this computer data in order to accurately diagnose a vehicle's problems. Otherwise, you may wind up wasting money to fix symptoms without repairing the actual cause of the problem.
Our ASE-certified diagnosticians and master-certified tech have over 50 combined years of experience on all makes and models of vehicles. They use Snap-On scan-tools, the latest diagnostic updates and the most current information systems available to correctly diagnose your vehicle's various computer controlled systems.
If computer components or electronic modules need replacement, many cars will require a computer reflash to correctly program those parts to your specific VIN (vehicle identification number). We currently have the right software to reprogram GM and Ford as well as access to Chrysler/Jeep, Honda, Toyota and most other Asian and domestic automobiles. See our page on Automotive Software Updates for more information.
Check engine light on?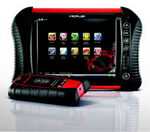 We can use our tools and software to provide a low-cost initial diagnostic computer scan, and read, record codes and advise on most makes and models of vehicles for $19.95. 
When more diagnostics are required to pinpoint the order of repair operations for a particular code or condition, most problems can be addressed for a DIAGNOSTIC FEE between $64.95 and $129.95 depending on the length of the procedure and the equipment used. This would include visual inspection, test driving, pre and post scan data, research, and components testing as needed. Our service writer can give you a closer estimate of the exact fee depending on the problem.
For more in-depth hourly diagnostics, occasionally needed for wiring, electrical, or intermittent problems, an hourly rate will be set and pre-authorization limits will be obtained.