Tires are a very important safety item on your car, but new tires represent a significant vehicle investment. Forest Auto can help you plan ahead by offering free to-the-penny phone estimates, including mount, balance & hardware fees, all taxes, & disposal costs.
Call with tire size information & brand preference.
We order economy through premium lines with next day delivery from our supplier. Planning ahead means you can take advantage of our "no tire stock" savings, just for scheduling your appointment on the day of the delivery!
A Vehicle Out of Alignment = Wear, Tear, & Costly Repair!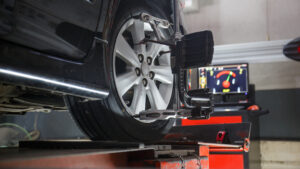 When your wheels are out of alignment, your tires aren't pointing in the right direction. This will affect your steering and suspension, but more importantly, it could affect your safety and the durability of your tires and all the parts controlling them. Tires begin to cup, feather, or even shake when a car is not aligned correctly. They also reduce your gas mileage.
$24.95 Alignment Check Only 
If you think you need an alignment but aren't sure, we recommend a check-only for a reduced price. (The price of this check is deducted from any alignment service you may need.) We use a new & technically advanced John Bean lift & alignment machine.
$69.95 Two-Wheel Alignment
$99.95 Four-Wheel Alignment
All Major Brands Including:
Call with brand & tire size for a free phone estimate.

We run Facebook specials  several times a year. Some can be used on alignments. "Like Us" on Facebook to receive notice of our monthly discounts & promotions.
Air is still FREE! Just stop by for service.